New Masterclass to support managers with emotional and challenging conversations
24 August 2022
Sharon Johnston, Head of Membership Services, CCA Global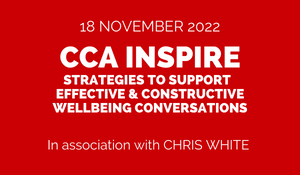 We are excited to host the first CCA Masterclass designed to support managers and leaders with emotional conversations around wellbeing and resilience on 18 November 2022.

The programme will be led by Chris White, a leading international crisis negotiator, trainer and communications expert with experience in a range of areas including mental wellbeing, resilience and leadership.

Managers and colleagues are increasingly taking on an important role in supporting the wellbeing of their colleagues, and leaders are expected to have conversations with each of the colleagues they support.

Can you confidently, safely, and effectively have conversations about wellbeing with your team? Do you have a fear of challenging conversations? Is it important to you to build a culture of trust and mutual respect?

Find out more about this 2-hour interactive session.
---
Keywords