Organisations must do more to support vulnerable customers during economic crises, says HGS
CCA PARTNERS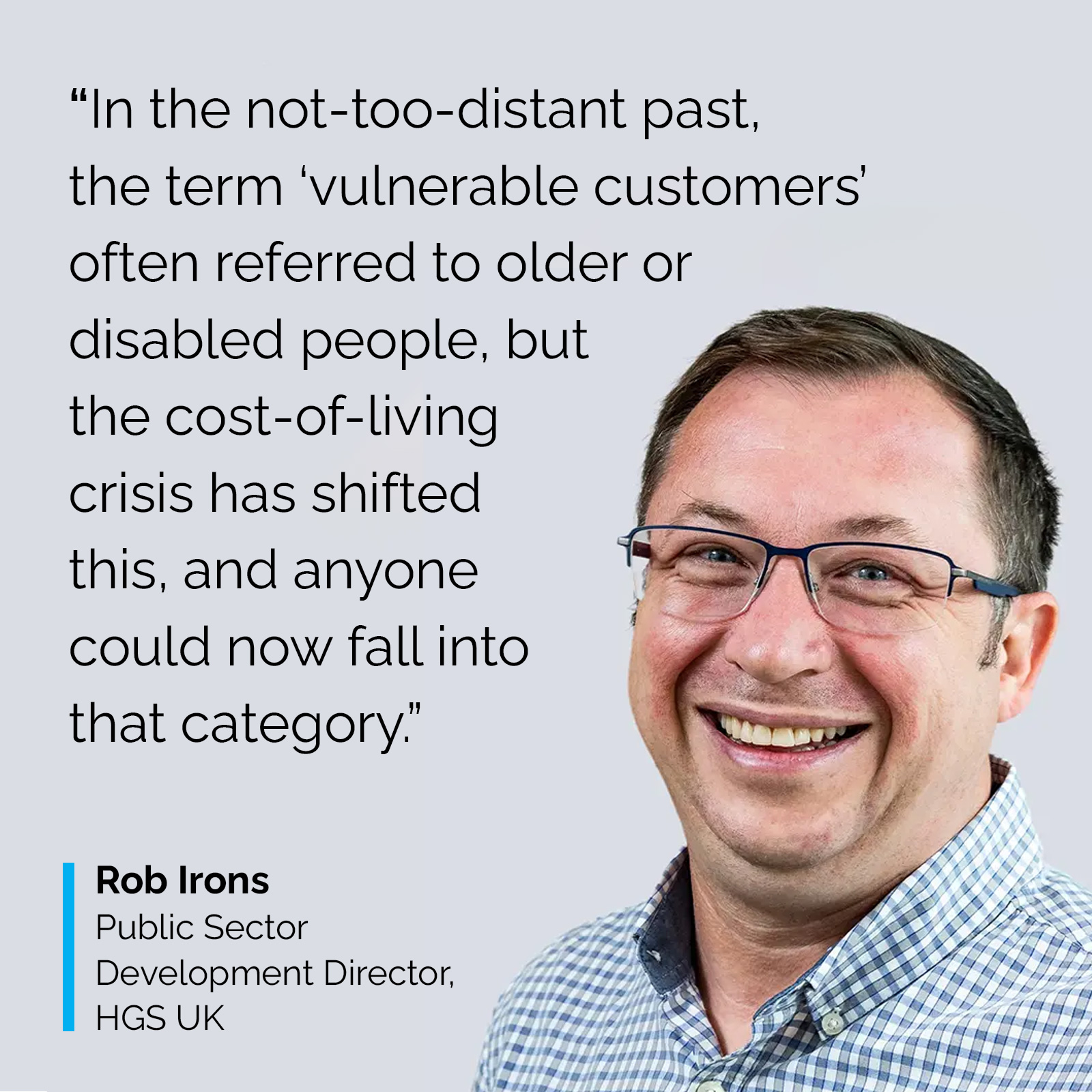 Economic challenges are severely impacting people across the UK meaning an increasing number are now being classed as vulnerable. For those organisations and leaders delivering customer service, being able to adapt to meet these new challenges – while ensuring customer contact teams can provide empathetic communication – is crucial for any business for the rest of 2023.
If businesses aren't already feeling confident about their approach towards vulnerable customers, they should engage with organisations that can provide guidance and support needed to implement changes as soon as possible.
Rob Irons, Public Sector Development Director at HGS said: "In the not-too-distant past, the term 'vulnerable customers' often referred to older or disabled people, but the cost-of-living crisis has shifted this, and anyone could now fall into that category. Given the varying preferences of customers across different age groups and demographics, businesses need to create the right environment to help and support customers across all communications channels, and this need for change has never been more critical.
"Re-training agents is one way that organisations can improve their approach to vulnerable customers. New modules should be designed to enable teams in contact centres to spot trigger words or phrases which could identify vulnerable customers, so that they can then offer further support. For example, for someone experiencing financial difficulty, it should be easy for agents to grant the customer access to any assistance programmes provided by your organisation. Alternatively, agents should be able to direct customers to other external services where specific support can be made available."
Rob continued: "Empathy and listening are two skills that need to be honed and developed by agents. We have a duty of care to the customer so having the ability to listen more than talk is powerful in encouraging an open and honest discussion. Often, customers may mention that they're experiencing illness or job loss, and through that agents can begin to piece together their difficulties and make an accurate assessment about their level of vulnerability and the help they need.
"Managers must also give agents autonomy to have longer conversations with customers they deem to be vulnerable, to build trust and ensure they're helping them in the best, most appropriate way. For contact centres that have historically measured service through AHT metrics, this might mean changing the service standard so that empowered employees can make the judgement call themselves as to how best support a customer.
"Externally, businesses need to effectively communicate what support they can offer and how, so people know what to expect before they reach out. Many customers might not even realise themselves that they're vulnerable or that help is out there for them, so understanding what businesses can do for them may prompt them to get in touch.
"The term 'vulnerable customer' has changed. Businesses must also recognise that their own employees may now be experiencing the same hardships as their customers. From financial wellbeing training to mental health support, there are many ways that organisations can offer help to their staff, to ensure they're coping well and are able to support customers without negatively impacting their own mental health and wellbeing.
Rob concluded: "It's also important that customers have a choice of how they communicate, and mechanisms are provided that make them feel comfortable. Crucially, some people would not want to discuss money on the phone, especially if they feel embarrassed. The introduction of technology and new communication channels can really help here.
"At HGS, our solutions are driven by how customers want to converse with us, and our technology supports this. For example, we have introduced WhatsApp across a number of services as a channel that provides a more anonymised way of making contact, using a channel that many people now feel more comfortable with. We're seeing more and more people opting for this in order to get help, which just shows how important it is to provide different channels to ensure we can support customers first time, every time."
---
Keywords