CCA Excellence Awards 2023 is open for entry!
01 August 2022
Sharon Johnston, Head of Membership Services, CCA Global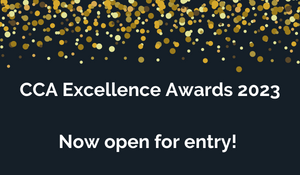 CCA, the leading independent authority on customer contact strategies and operations, launches its Excellence Awards programme for 2023.

CCA Excellence Awards is the most independent and respected Awards programme, unique through its peer group judging process. The judging panel includes professionals from all sectors and senior executives with wide-ranging experience in customer contact and customer experience.

CCA is constantly innovating to ensure it continues to provide members with the tools, market intelligence and foresight needed not just to survive but to thrive in this challenging climate. What is clear to us all is that recognition of individual and team effort has never been more important.

CCA Chief Executive Anne Marie Forsyth said: "We continue to be impressed by how the customer contact and CX community responds to today's challenge in innovative ways and is committed to delivering high standards of service and experience.

"Central to the CCA awards programme is recognition of those individuals and organisations aspiring to succeed. It is paramount to recognise achievements and to showcase the fantastic examples of innovation and best practice which are taking place."

CCA Excellence Awards will be presented on 27 April 2023 in Glasgow at a distinguished gala dinner – one of the highlights of the year, the event is a must attend for those committed to continual improvement of their customer service operations.

Find out more here.
---
Keywords