A Unique Blend
21 June 2019
Anne Marie Forsyth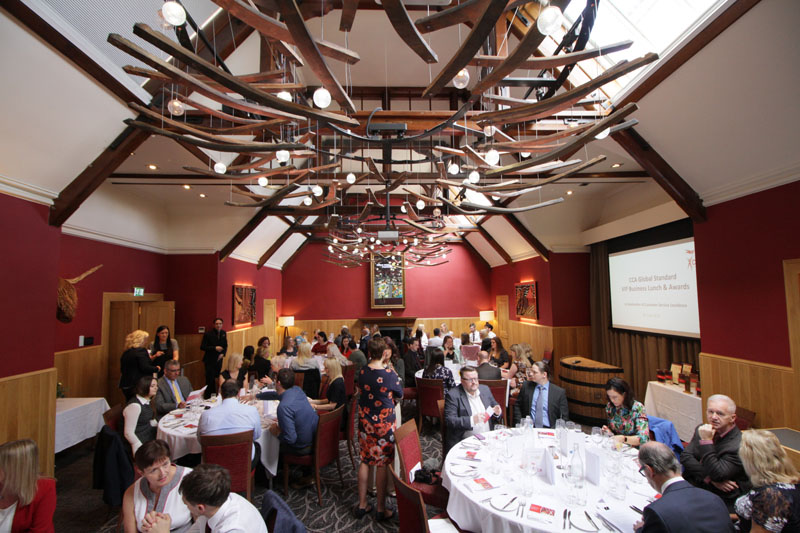 Yesterday we celebrated success with 60 special guests at a lovely lunch event in The Scottish Whisky Centre just next to Edinburgh Castle. Everyone had played a major role in achieving a successful accreditation against CCA Global Standard©.
Organisations were represented from all over the UK and Ireland; including Calmac, Scottish Widows, Pearson, Coventry Building Society, Skipton Building Society and Student Loans. On the face of it they don't have much in common but they all face demanding customers who are more anxious than before in an uncertain and turbulent world.
All organisations who attended were awarded their accreditation (see list below) and each is committed to measuring themselves annually against the latest, agreed benchmarks in customer experience. They are all changing, becoming more digital and looking to improve service design to reduce friction for us all where possible.
It's easy to press pause on investments in customer experience. Sometimes big transformations can overwhelm teams and a priority shifts to internal affairs and away from customer. There's a certain analogy with Brexit where a single, big issue sucks the lifeblood out of government; organisations can quickly lose touch with customers when they place change agendas in front of day to day customer demands.
There's no once and done when delivering service; it's an ongoing, circular process of learning, implementing, comparing and measuring.... and of course, recognising and celebrating success in good company with like-minded professionals.
Congratulations to all once again!
Award winners:
Presentation of Annual Global Standard© Accreditation:
ATOS IT Solutions
Capita Life & Pensions
DVLA
FCA
FEXCO
Highways England
HRSC
Legal & General Retirements
NHS 24
Pearson VUE
People's Postcode Lottery
Poly
SGN
Skipton Building Society
Student Loans Company
The Contact Company
Yorkshire Building Society
CCA Global Standard© Achievement Awards – Bronze – for attainment of 5 years or more
Capita Life & Pensions
HRSC
CCA Global Standard© Achievement Awards – Silver for attainment of 10 years or more
ATOS IT Solutions
Highways England
CCA Global Standard Achievement Awards – Gold for attainment of 15 years or more
---
Keywords