SGN: A trailblazer in customer excellence achieves CCA Global Accreditation© with flying colours!
22 November 2023
Sharon Johnston, Head of Membership Services, CCA Global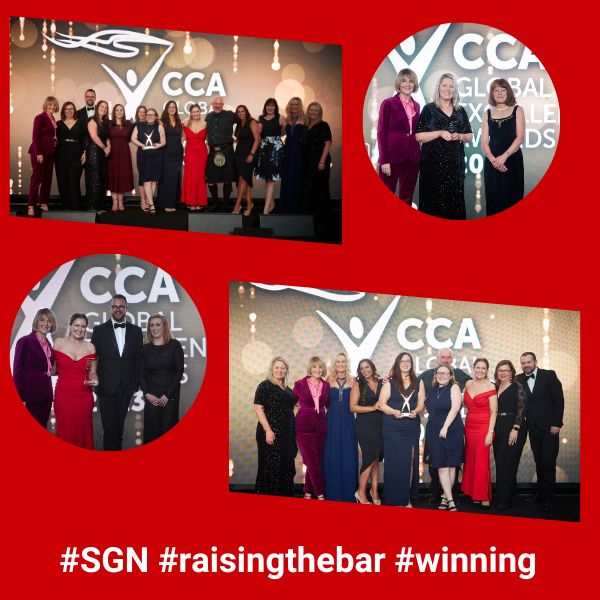 In a world where customer service is paramount, SGN emerges as a shining example of dedication, innovation, and unwavering commitment to customer excellence. SGN has not only set out on its accreditation journey but has consistently achieved the prestigious CCA Global Accreditation© every year since 2016.
SGN's journey
For SGN, the journey towards customer service excellence began in 2016, and it has been a journey marked by dedication, innovation, and a strong partnership with CCA Global. This accomplishment is a testament to SGN's relentless pursuit of delivering outstanding service to the 5.9 million homes and businesses across the south of England and Scotland.
A gala of recognition at CCA Excellence Awards 2023
The SGN customer services teams, split across Scotland and southern locations, operate virtually but are undeniably a close-knit team. Their recent success at the CCA Excellence Awards in April 2023, included winning 'Team of the Year' for their SGN Customer Careline Team, further solidifies their commitment to excellence. The organisation was also recognised for their innovative approaches and dedication to customer service excellence picking up awards for Innovation in Customer Service and Inspiring Leader Award which was presented to Customer Services Director, Maureen McIntosh.
Dedicated teams making a difference, 24/7/365
Behind the scenes and out on the streets, SGN's teams are the unsung heroes working tirelessly day and night to ensure the safety of the population and the smooth flow of gas to millions of homes and businesses. Their dedication is not only evident in their commitment to maintaining gas pipes but also in their relentless efforts to keep customers safe and warm, especially those in vulnerable circumstances.
People-focused mission: It's in their DNA
SGN's mission, "taking care of our customers, especially those in vulnerable circumstances, it's in our DNA," is not just a slogan; it's a way of life for every member of the SGN team. Whether out in the community or through their customer service centres, SGN's commitment to care and concern for customers is at the forefront of every interaction.
Supporting colleagues and nurturing diversity
SGN's commitment doesn't stop at customer service; it extends to the well-being of their colleagues. Their proactive approach to supporting colleagues, especially during challenging times, demonstrates a company culture that prioritises the human element. With a 60/40 home/office hybrid working arrangement, SGN fosters mutual flexibility, contributing to a positive and supportive work environment.
Congratulations to SGN: Setting the standard for Customer Excellence!
As we celebrate SGN's achievement of CCA Global Accreditation©, we applaud their dedication, innovation, and unwavering commitment to customer service excellence. SGN's legacy is not just about pipes and infrastructure; it's about making a positive impact on society, one customer interaction at a time.
Here's to the team at SGN for their outstanding achievements and their role as trailblazers in customer excellence!
🌟👏 #SGNExcellence #CustomerServiceLeaders #CCAGlobalAccreditation
About CCA Global Accreditation for Customer Experience

©

With over 20 years of creating and setting industry standards, CCA Global Accreditation is the proven route for those organisations committed to achieving service excellence.

Achieving CCA Global Accreditation is a testament to an organisation's dedication to delivering outstanding customer experiences, continuous improvement, and a customer-centric approach in all aspects of its operations. This accreditation sets a high bar for service quality and is a mark of distinction in the world of customer service. To find out more, contact the team.
---
Keywords