Embracing our differences offers endless opportunities for growth, innovation, inspiration and success. By opening up to diverse ideas, we not only identify new opportunities but diversify our minds and our approach.
In this session we will explore the opportunities from building a stronger and more diverse workforce who can best respond to customer needs. We'll also be exploring how we ensure we have an inclusive mindset for customers; challenging accessibility to services and how we build a robust and appropriate capability for those who are vulnerable.
At the first CCA Leaders' Summit of 2023 we will focus on two main areas:
Diversity & Inclusion: How do we build a stronger and more inclusive workforce?
The business case for gender equality, diversity, and inclusion is strong and growing stronger. How do we build a stronger and more inclusive workforce? Are the current recruitment challenges forcing us to consider marginalised groups previously disregarded? Is our strategy being measured and tested? Do business policies and strategies give colleagues the opportunity to thrive?
A keynote presentation by Lloyds Banking Group will focus on creating a culture where all colleagues have the opportunity to reach their full potential, whatever their role or background.
Laura Vaughan, Head of Protection, Health Claims, Bereaved & Operations Support commented:
"We are delighted to host this event on a topic that is so important and close to my heart. As an Inclusion & Diversity Lead within our insurance business, I genuinely believe we have a fantastic opportunity to maximise the potential of all our colleagues. I have worked with the CCA and its members for more than 7 years and look forward to sharing best practice and learning from the network on the day."

Vulnerability: Do we offer enough support to our workforce, supply chain and customers?
Heightened by the pandemic, inflation, rising energy costs, food prices, the increased use of social media and the resulting damage, every organisation across industry needs to address and support vulnerability more than ever. Are we offering a fair and appropriate response? Is the approach empowering colleagues? Are they able to comfortably identify, listen and respond with appropriate levels of care? Are we creating the most appropriate, and non-discriminatory access for customers?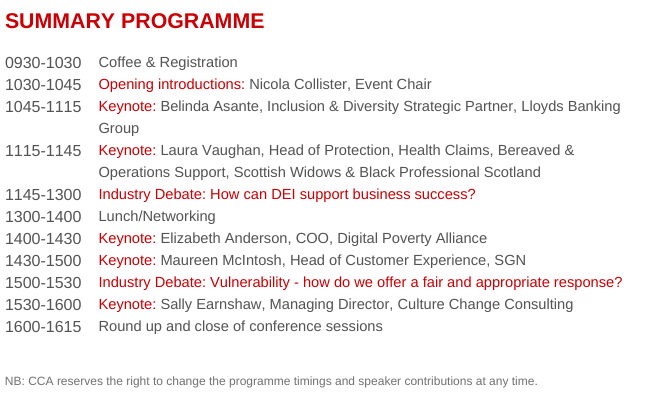 We invite you to join us for a day filled with keynote presentation, great discussion, engaging round-table table and networking!
CCA Members have allocated complimentary passes to attend. To reserve your spaces please click the link here - https://www.eventbrite.co.uk/e/cca-leaders-summit-on-22-february-2023-tickets-512995652807
PLEASE NOTE: This event is for CCA members only. Places are complimentary for members and are limited. All bookings are allocated on a first come, first-served basis. CCA reserves the right to decline any registration at any time.
---