A spotlight on the changing landscape of customer service in Northern Ireland
CCA Interview with Jeremy Fitch, Executive Director of Business and Sector Development, Invest Northern Ireland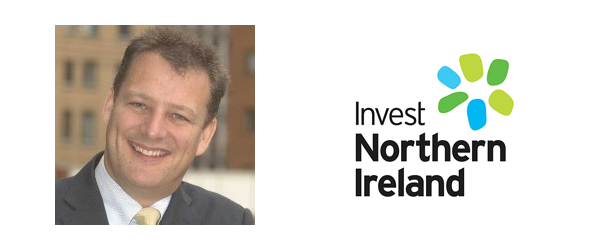 ---
Introduction
We live in a fast-paced and increasingly digital world and it's changing how we communicate and offers new opportunities for improving customer experience. The service we receive from the brands we engage with can be delivered from all corners of the globe, seamlessly and efficiently. Our interview with Jeremy Fitch uncovers what's happening a little closer to home as we look at the customer service landscape in Northern Ireland.
---
Our always on, 24/7 world means we communicate very differently now and engage with brands in so many ways. What would you anticipate the main changes that organisations need to think about in how they deliver their customer service?
I completely agree that the way we communicate now is very different from even five years ago and continues to change rapidly. Companies need to be prepared for this – to be innovative and courageous as they face these changes. The 24/7 world brings a lot of opportunities as well as challenges. Organisations that want to be successful need to be flexible in how customers can interact with them – choice is key. In Northern Ireland, we have organisations that are already looking at the opportunities. Some work across different timelines offering a 24/7 service online and other organisations have trained their staff to use multiple channels at any one time to maximize customer service.
What do you think the main technology challenges will be in the future and how will Northern Ireland meet these challenges?
We see investment in research and development as a key priority, both for our universities and our companies. For example, customer service companies globally are looking at different ways automation and AI can increase their productivity. In Northern Ireland, we want to nurture that innovation and are already seen as a centre of excellence in cyber skills with the Centre for Secure Information Technologies (CSIT) recognised as home to the UK's largest cyber security research cluster. Our universities are conducting pioneering research into robotics and AI, looking at amongst other things – machine intelligence, pattern recognition and intelligent decision support. Our regional Industrial Strategy also recognises this and commits to supporting the industries of the future.

What would you say are the main capabilities of the organisations in Northern Ireland that deliver customer service?
Organisations in Northern Ireland are already experts in their field. They are delivering on hundreds of different, very diverse contracts every day providing multiple functions across numerous sectors. For example, many of our organisations will be delivering sales, customer support and technical services, sometimes with very niche skill sets, to many sectors and companies at the same time.

Tell me a bit about the talent you have.
Northern Ireland has an agile, educated talent pool which is vital for success, as skills availability remains the key attractor for both new investment and re-investment. Investors who come to Northern Ireland constantly cite the quality and talent of our workforce. In fact, over 80% of all investors in Northern Ireland reinvest - an incredible achievement for a region with a population of only 1.8m. In customer services especially, staff are recognised for their soft skills such as empathy and problem solving and as a region we boast a motivated and highly qualified workforce with one of the youngest populations in Europe. Our students consistently excel in our GCSE and A-levels results measured against other UK regions and our two universities provide a great pool of talented graduates.

What do you think will be the main challenges with the talent and workforce in Northern Ireland and how will you meet these challenges?
I think there will be very similar challenges to other parts of the UK and western world - an aging workforce, a need for retraining/upskilling and the flexibility to move quickly to create skills for emerging roles. We need to work now to create the workforce of the future. Organisations have already started to become more innovative - upskilling staff into new roles and teams, and some are also looking to an older demographic for possible recruitment as these potential staff bring a completely different set of skills and experience.
What do you think is the main differentiator you offer?
I would say that the main differentiator is something I have already mentioned – our talent! However, we realise that there are many areas beginning to emerge requiring new skills such as analytics. To encourage the development of these, we have put in place a number of highly successful skills programmes to help grow these specialisms. For example, the Assured Skills programme provides bespoke skills training specific to companies' identified needs. Academies from this programme have included data analytics; human resources; financial services; software development and testing; cyber security and call centre skills. This innovative and responsive solution has delivered nearly 1,000 trained staff over the last four years – with the academy programmes consistently attracting many more qualified applicants that can be accommodated.
If there was one piece of advice you would offer to businesses to consider for any future developments in their customer service, what would it be?
I would say use every opportunity to stay relevant to customers through technology but also remain human. AI and technology will help augment services but customers will, for the foreseeable future, always want some kind of human interaction for more complex queries. Skills such as empathy and compassion along with creativity will be highly sought after - skills already proven in Northern Ireland.
---
About Northern Ireland
Northern Ireland delivers a wide range of customer service activities including technical advice, sales and customer support across a broad variety of industries. The Northern Ireland Business Services sector is made up mainly of multi-national companies whose centres service a global base.
More than 16,000 are employed in customer service, inbound, outbound and technical centres across Northern Ireland servicing global brands in many sectors including retail, financial services, telecoms, manufacturing and media. Brands serviced include Channel 4, BBC, Primark, O2 and organisations with an internal customer focus such as BT, Bemis, Terex, Caterpillar and Allstate.
Since 2000, Northern Ireland has attracted many international brands ranging from large BPO names such as Capita, Concentrix, Teleperformance, Firstsource and Convergys to customer service centres for large financial institutions such as Lloyds, Santander, BNP Paribas and Danske Bank. Northern Ireland has a track record of investment and reinvestment in the services sector over the last 20 years, growing from a small number of indigenous firms to nearly 40 international companies in customer services, shared services and IT services.
Find out more: https://www.investni.com/invest-in-northern-ireland.html